Enjoy Onsen
---
[easyrotator]erc_72_1405870426[/easyrotator]

About Terume Hot Spring Resort's traditional onsen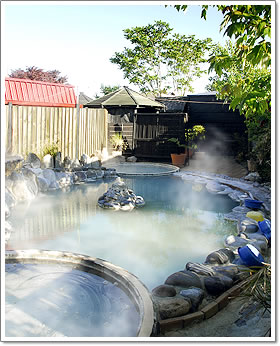 Terume Hot Spring Resort provides three onsens: One outdoor public mineral pool, and two indoor family mineral pools. Our mineral water comes from a source located 160m underground. Alkaline substances and various minerals are also drawn up from this source. Research has shown that such substances and minerals are beneficial to health-especially effective for temporary relief of arthritis, dermatitis and musculoskeletal pain.
The mineral water used in our onsens are never recycled, so that a high level of hygiene is maintained within our facilities.
Terume Hot spring resort is famous for its genuine free flowing rotemburo (outdoor onsen) identical to the traditional onsens in Japan. Because of this, we have also adapted the traditional rules of onsen usage in Japan, guests are not allowed to wear swimsuits while using this facility.
Full information on onsen usage and etiquettes will be provided on your arrival, and a copy will be available in each room.
Terume Hot Spring Resort follows the guidelines set by Rotorua District Council for safe and enjoyable use of our facility.
Introduction to Japanese Onsen
Onsen (温泉) is a term for HOT SPRINGS in the Japanese language.
Getting naked, hot and wet with a bunch of total strangers is the most typical Japanese thing to do. Traditionally, Onsen were used for public bathing. Apart from the comfort, relaxation and promotion in one's well-being that an Onsen brings, they are also believed to benefit and enhance the body's healing process because of the minerals that the water contains.
Regardless of which Onsen you go to in Japan, there are basic rules on what to do and how to behave. The same rules also apply when using the Onsen in Terume Hot Spring Resort, Rotorua.
 Using the Onsen
Remove your clothes and put them in the basket provided. Take only the bath towel. Keeping your privates covered with the bath towel, enter the bathing area closing any door behind you. Wash or rinse your body briefly using the showers/faucets before entering. For the best results it is advised that you bathe naked in the Onsen,
unless prior discussion have been made with Terume Hot Spring Resort Management
Soak for a short while being careful not to get too hot.
After your last dip in the Onsen, DO NOT rinse, just wipe your body dry with your bath towel.
Onsen Etiquette
There is an established code of etiquette for our Onsen at Terume Hot Spring Resort. Observing the following rules will result in a pleasurable experience for everyone:
Do not enter the Onsen in a bathing suit, unless specified by Terume Resort Management.
ABSOLUTELY NEVER use soap or shampoo in the Onsen. Washing is done outside at the showers.
Wash with soap or at least rinse well before entering the Onsen for the first time.
Avoid making loud noises or rowdy behaviour in the Onsen. Onsen are places for quiet relaxation or conversation.
Avoid staring at other people. Respect others privacy and modesty.
Do not wash clothes in the Onsen.
In order to benefit from the minerals in the water and let your body absorb such minerals, it is recommended to just wipe your body dry without taking any shower.
Bath time
Indoor family mineral pools
Morning
Afternoon
07:00〜10:00
05:00〜10:00
Outdoor public mineral pool
Morning
Afternoon
07:00〜10:00
05:00〜06:00 Man
06:00〜07:00 Woman
07:00〜08:00 Man
08:00〜09:00 Woman
09:00〜10:00 Man
* Please no swim wear in the pool.
*All hot mineral baths are reserved for motel guests staying overnight.